Vehicle Trackers
Street Installations security systems include GPS vehicle trackers which work in real-time allowing you to locate your car at any time. These vehicle tracking systems are ideal for fleet managers who want to keep an eye on their vehicles remotely as well as for on-site plant and machinery security. The systems are also used for sports timings, personal location and to fulfil lone worker protocols in the Ipswich and Bury St Edmunds area.
Alarms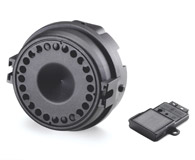 Streets Installations also fit the newest Cobra alarm appliances. Cobra is a leading supplier of many advanced vehicle security systems that you could find all over the world. Their car alarms and immobilisers are approved to the Thatcham standard meaning that they are accepted by most insurers in the UK. This often leads to a reduction in the insurance cost for cart owners in Bury St Edmunds as well as Ipswich.
The current range of alarms also includes the newly released 4400 Series. This device is completely compatible with OE immobilisers. It also works with a plenty of CAN-bus protocols. Cobra affords an extensive portfolio of vehicle security system with a big choice of programmable features – all available from Street Installations.
Vehicle Camera Systems
Rear Cameras
When reversing, rear cameras help you to manoeuvre safely. A hidden camera is fitted to the rear of the vehicle with which displays an image for the driver to see. At night, the camera lights up to give a perfect view even in low-light conditions. Rear camera systems are available which can work with whatever current navigation system you happen to have.
Reversing alarms
The alarms provide a loud audio warning which both pedestrians and other road users can hear whilst reversing in any larger vehicle.
Witness cameras
Capturing high-quality records of your journey, these systems can be used in the event of an accident as evidence. The footage can help to protect your no-claims bonus when an incident occurs for which you are not at fault.
For more details on the range of Vehicle Trackers available in Ipswich and Bury St Edmunds, or for help to decide what the best option for you would be please get in touch with our team of highly knowledgeable staff today.
We accept most credit and debit cards. See below for details.


Email us
Complete the form below to proceed with your enquiry: